Female Superstars.
Halle Berry
Born August 14 1968 born in Cleveland Ohio. Has starred in 21 movies. Most notably was a bond girl in Die another day and Storm in the X-men Movie. Her intrest in acting came from being entered in a lot of beauty pagents through out her teen years including one miss Usa pagent. She started in Tv on the show Living dolls and did some work on knots landing before landing her first movie role Spike Lee's Jungle Fever which got her a reputation as a hard working actress. She also recieved an Oscar for Best Actress on the film Monster's Ball in 2001 which was a real accomplishment since it was the first time an African American woman held that title.
Hollie Marie Combs.
Born in San Diego California and moved with her family to New York when she was 8yrs old. She began working TV commercials and print advertisements at age 10, and won her first movie role by age 13. The movie was Sweet hearts dance. At age 18 she got her first big roll as the daughter of Tom Skerritt and Kathy Baker's characters in Picked Fences. She's played starring roles in some tv movies including Daughters and Sins of Silence . She also had some other on screen movie apperances like Born On the 4th of July and Chain of Desire. She is now reconized mostly though as Piper in the TV serries Charmed. She also enjoys gardening and horseback ridding.
Janet Jackson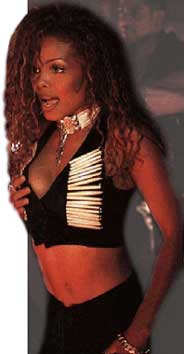 Her full name is Janet Damita Jackson, she was the youngest of the 9 children of Joshephin and Katrina Jackson born on may 16 1966. She began acting at the young age of 7 apearing on stage with her brothers who made up the then famous group the Jackson 5 (later named the Jacksons). She apeared on the sitcom the good times at age 10 and stayed their for 3yrs she also apeared on the show Diff'rent Strokes, and A New Kind of Family she even apearred in the musical televison serries Fame. Her first major album was Control, that spun of five top 5 single hits, yet the second album Rythm Nation 1819 was a blow out making her the first musician ever to have an unprecedented 7 single top 5 hits off of one album.
Lucy Lawless
Lucille Frances Ryan or Lucy Lawless was born march 29th 1968. Her hair is blond (she's died it for many of her roles).Born in New Zealand as the 5th of 7 children and the first girl. She had her first daughter at a young age. she was 20 whe n she got her first T.V role . in 1993 she got the role of Lysia in Hercules the Legendary Journeys mad for t.v movie "Hercules and the Amazon Women" this was the role that set her up a Xenia, She has also strared in Thypons Children,High Tide,Raybradbury Theater,Adventures of the Black Stallion,and Something so Right.
Pamela Anderson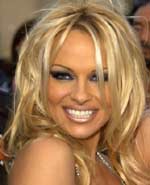 Born July 1, 1967. First known as the spokeswoman for labbat beer, then a playboy model. She was also the first Centenial baby in Vancover Island British Columbia. Her first reacurring Role was on Home Improvement as Lisa the Tool Time girl. She has starred In the 8 movies the most notable being Barbwire and on the TV shows Baywatch and V.I.P. and has done the voice of Stripperella a 2003 Spike TV CFFA (Cartoons for * adults) cartoon.
Sable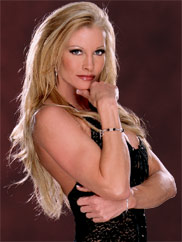 Real name Rena Mero still married to Marc Mero who's now doing real estate investments. From Jacksonvile Florida. In 1999 she became the first WWF/WWE diva to ever appear in Playboy and the first woman to apear twice in one year and also appeared twice that year on the cover of TV guide. Has been the womans champion on a few occasions. Starred in the movie Corky Romono and was featured in the TV show Relic Hunter She also starred in Pasific Blue. In 1977 she won two slammy awards the Dressed to Kill award and the Miss Slammy Award. In 2003 she made her reuturn to the WWE ring as Mr. McManhans love intrest. She also teamed with the second WWE/Playboy diva to do a two woman cover on the magazine in the year 2004.

Male Superstars.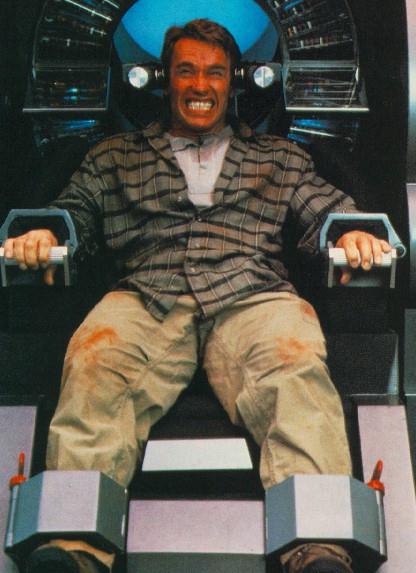 Starred in 33 movies from 1970-2002. He only starred in two movie serries thus far (Conan and Terminator). He's only played two villians (Terminator 1 and Mr Freeze). His production company is 'Oak Productions'.Became a US citizen [1983].His wife Maria is one of the Kennedy nieces. He's the son of a police officer.
Jean Claude Van Damme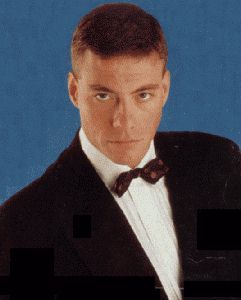 His fight scenes are so intense that he won't film them in the U.S. for fear of being sued. Former European professional Karate Association middleweight champion.Speaks flemish.Likes classical music and his favorite composer is Beethoven.
Kevin Sorbo.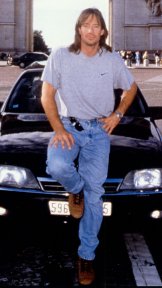 Born on September 24 1958 in Mound Minnisota. In highschool he excelled in Football, Basketball, and Baseball. In College he also played hockey in addition to those three sports.He worked as a bouncer and a moddle before getting the role of Hercules. He's appeared in 3 movies as of 1997 Kull the Conqueror being his most famous work as the title character.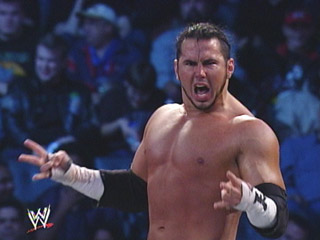 Real Name Mathew Moore Hardy. Born Sept 23 1974 born in Cameron NC. Hates mustard. Has wrestled under the names of Surge, and Wilde Jinx. With his brother he as of 2001 he has held the world tag title for WWF 5 times. Has held the Hardcore title once, and the European Title once. Likes Mytle Beach South Carolina and Challote North Carolina as vaction spots.
Micheal Douglas.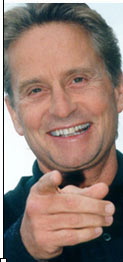 Son of Kirk Douglas and Diana Dill Born September 25 1944.Had his first acting job in 1960. Won an employee of the month award at a mobile gas station in 1964. Stars in a 1969 Television feature recieving his first golden globe and stars in a second feature to recieve a second golden globe. In 1972 he established his first production company. In 1976 he shares his first Oscar nomination with Saul Zeanzt for One flew over the cockoos nest, which also won 5 Academy Awards (2nd picture to ever do so). In 1980 he helps establish the National Alliance against Violence with Jann Werner,also suffers a serious skiing accident and is off work for 3yrs. In 1988 he forms Stonebridge Entertainment. In 1989 He and his Father recieve the Sheba Humanitarian Award. In 1990 he Forms the Micheal Douglas Foundation and Third Stone Records. 1992 Awarded Hasty Pudding Man of the Year Award from Harvard.In 1993 honored with American Cinamathequi Lifetime Achievement Award.In 1996 Peoples Choice awards gives him an award for his carrear as an actor and producer. Is presented with another Lifetime Acheiement Award at the Chicago Film Festival. In 2000 announce engagement to Cathrin-Zeta-Jones
Terry "Hulk" Hogan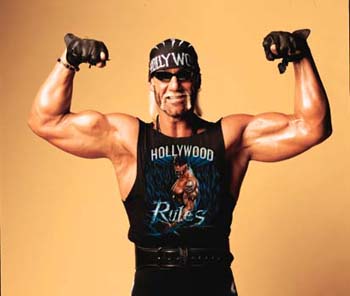 He was born in Augusta Georgia.He is involved in many charity organizations, such as the Make-A-Wish Foundation, others like Pediatric AIDS Center, Special Olympics and the Starlight Foundation. First ever IWGP champ. Star of the show Thunder In Paridise which didn't make it on Big time TV. Horace Bollea is Hogan's nephew. He is the only person related to Hulk Hogan that is in the wrestling business. He also wrestled under the name Mr. America for a time in 2003.


Tiger Woods
Tigerwoods is a sensational pro golfer.Born in Cypress California in 1975 and given the name Eldrick Woods. nicknamed Tiger after a war budie of his father Earl Woods. He is of Asian and African american decent which made him both the first asian/african american to win the Masters tournoment in 1997. He was also the youngest player and had the lowest score for 72 holes (270/ 18 under par) and widest margin of victory 12 strokes. Before turning professional though he won 3 consecutive United States Amateur Championships from 1994-1996. He truely began golfing though as soon as he could walk. He was also the youngest player (15) to win the United States Golf Association Junior National Championship. In 1994 he enrolled in Stanford University in California and named the Pacific 10 confrence player of the year in 1995, and won the NCAA championship a year later. In the span of 2000-2001 he won all four major professional tittles (US open,British open, Pga Championship, and Masters ) being the first to hold all 4 tittles at once.
Val Kilmer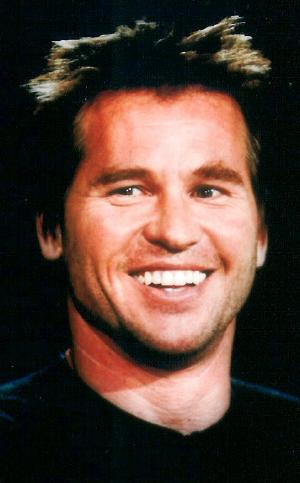 Born December 31st 1959 In Los Angelus San Fernado Valley area of California. Is a distant cousin of the renowned author Alfred Joyce Kilmer/ Trees. Val's name is not a nickname nor a shorten form of a biger name. His father lived with the Zuni Indian land and told his children stories of his life. Val developed a love of nature and wildlife at an early age that has stood with him through out. Val spent some time at either his grandparents' house in New Mexico or the Kay El Bar guest ranch in Arizona which was family owned for a time. Val was discovered at age 12 and started acting in hamburger comercials. His high school (Chattsworth) was a very inspiring school that he Mare Winnigham and Kevin Spacey had all attended had a great drama teacher and at the drama festivals the only compitition they truely had was that of Beaverly Hills High. At age 17 he was the youngest student ever at New York Cities Juliard High who got in because he had made his own peice. When his brother drowned though he went back to california for the funeral and found with in him the qualities his brother expresed as well and hallowed them and built on them not by becoming his brother, but using some of his talents. He graduated Julliard with a Bachlors Degree. After his first movie Topsecret in 1984 he learned that he wanted his talent to show through, which made it tough yet the next year he got his break in Real Genious that showed his talents after that people began noticing him. Also staring in Wilow oposite his future bride Joane Whalley (princess Sorsha) in 1988 He liked that it was a story with heart. He had a ranch out in New Mexico with Buffalo, Cats, Dogs, and Chickens and realy learned to like the Buffalo. In 1991 he came back on to the big screen in a big way as Jim Morisson in Oliver Stone's The Doors, who were surprised at how good he could act even fooling the members of the band themselves. In 1991 he also became a first time father to Mercedes who became a bright girl who also speaks japaness and spanish. Val is also part Cherokee indian which kind of a spiritual journey when he was in Thunderheart in 1992. Also in 1992 he wowed them again in the Joshep Papp Theater in the titled "Tis pitty she's a whore" play which may be his last apperance on stage. When he got called to play Batman in the Forever story he accepted and became freinds with Jim Carrey who had also lost his father recently. In 1995 Val's son Jack was born and at age 4 was a Batman freak yet Val denies having any influence on that one realy. He got his dream film in Heat working with his favorite stars Al Pachino and Robert Deniro.

Gone yet not forgotten.
These are famous actors/actresses, and creators who are gone, yet who'se memory still lives on.
Albert Einstien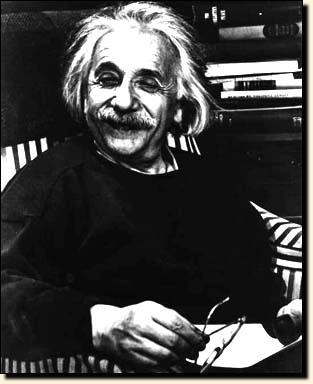 As a small boy Einstien was self-sufficient and thoughtful. At first he was a slow talker taking time to piece together what he wanted to say. He liked building card houses and his sister remembered the concentration and preservierance that went into each one. Although he got good grades )(outstanding in mathmatics) Einstien hated the high school he was sent to in Munich and quit school at 15 yet continued his home studies. Some say that being a Jewish boy in a catholic school was hard for Einstien or resistance to authoritarian German teachers. It was at the Swiss college in Aarua that his focus turned to the theory of electromagnatism. Later after graduating he realized Physics was his true study, yet if not for the notes of Marcelle Grossman a friend who spent his time in the classes while Einstien was in the lab or libraury then he wouldn't have come so far. After struggling he got a job at the patent office in Bern this gave him the freedom he needed to publish scientific papers. He and a few other colleges formed the Olympia Academy mocking the official bodies that dominated science. He is said to have three ofspring with a Serbian woman Mileva Maric who he married in 1903 yet his mind for science pushed her away. He later married his cousin Elsa Lowenthal. It wasn't until september of 1909 that he came up with the formula that would lead to the equation of E=mc2. This lead him to explore the pysics of gravity and use mathmatics that he thought he would never use. He predicted the appearance of stars as relative to an eclipse. This made him reconized as a symbol of new pshysics.Einstien was a very political man as well and signed on as a member of the German Democratic Party on Nov 16 1918 becoming a German citizen, and in 1922 he joined the German League for human rights and was attracted to a numer of their causes, becoming a defender of sorts. Also in 1922 he accepted the Nobel Prize in physics. He left Germany in 1932 a bit befor Hitler came into power, he renounced his citizenship. He came to the United States and to the Institute for Advanced Study in Princton in October 1933.
Andre The Giant.
Born Andre Rene Roussimoff in Grenoble France on May 16 1946. He suffered what was known as acromegaly or giantism (as it's more often known) and at 17 stood 6'7". It was the French-Cannadian wrestler Edward Carpentier that brought him to America. He first wrestled in the Canadian Grandprix promotions, and went from the undercard to the main attraction. By the time he preformed in front of 20,000 wrestling fans in Montreal his rep reached the doors of the original Vince McManhon, at the then titled World Wide Wrestling Federation (WWWF) headquarters. Vince signed Andre renaming him "Andre the Giant" in 1972. He was featured in Sports illistrated in the largest feature they did to date. In 1987 on Wrestlemania III the Andre vs Hulk Hogan match drew the biggest crowd to date in Madison Square garden with 90,000 fans packing in. Andre was in 6 Wrestlemania events. He held the WWF championship for a short time he also held the NWA and IWA tittles and held the WWF tag team tittle. He also took on an acting carrear and was in such tv shows as BJ, The Bear, The Fallguy, and Greatest american hero. He also starred in such movies as Conan The Destroyer, Micky and Maude, Trading Mom, and his favorite and the one most reconized the charracter of Fezzik the lovable (yet dull witted) giant in Rob Riennier's Princess Bride. Andre's last TV apperance was on WCW (NWA) 20 years wrestling on TBS. Sadly over the course of years giantism had taken it's toll on the lovable giant as it had worn him down he died in a hotel room in Paris France Jan 27 1993 his ashes were later spread over his NC ranch.He will be remembered as both the 8th wonder of the world and the Gentle Giant.
Jim Henson

Born september 24 1936 in Greensvile Mississippi under the name James Maury Henson. He graduated from the University of Maryland College Park. This creator of the muppets originally never thought he'd make a name for himself in puppetry stating it was mearly a way to get on T.V. He began his telivision carrear in 1954 as a puppeteer on a local Washinton D.C program, a year later he produced Sam and Freinds (a nightly five minute brodcast which won a local emmy in 1959) and introduced the world to Kermit the Frog. Kermit was named after a freind from Mississippi. The Muppet Show Won 3 emmys and many other tittles durring it's 5yr run. Founded the UMIMA Cititions of Excelence in 1973 to provide a peer-judged award for the art of puppetry in North America, He was also the founding chairman of UMIMA's Usa Chapter.He shares the same birthdate as Steve Witmire who took over the role of Kermit after Henson's death. Jim's death occured at age 53 in 1990 as a result of Group A Streptococcus Bacteria. He died the weekend he was going to sell his company to Disney.

This is a tribute page to all those listed above. This site does not intend to infringe upon said stars.